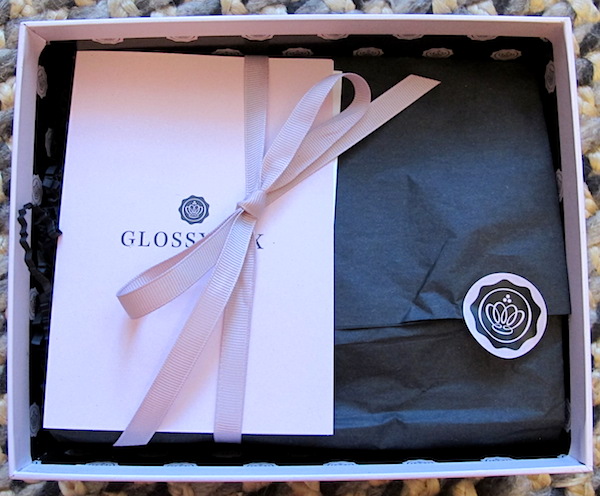 My April Glossybox finally wandered its way into my mailbox last weekend. I KNOW. It was May 10th. More on that later. I have to tell you what was in my box before it's suddenly June.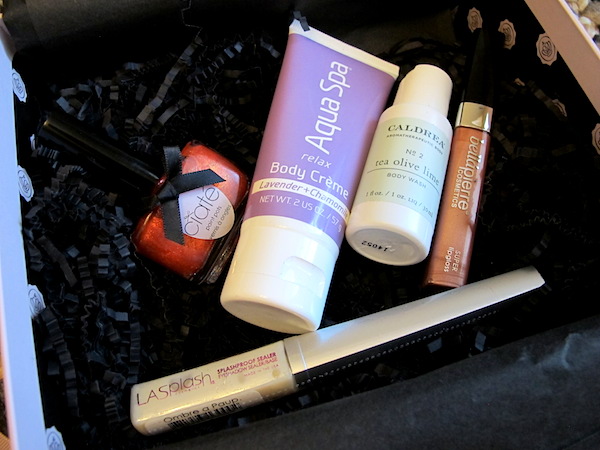 The Glossybox subscription is $21/month for 5 deluxe and sometimes full-sized items. It comes in a super sturdy, cute little box that makes you feel like it's your birthday every month.
For some reason, I just KNEW I'd end up with one of the more pastel Ciaté London Paint Pots that were available this month instead of one of the more vibrant colors that I really wanted. Mostly because I'm already mad at Glossybox for this month. But hey! I was surprised to discover a shimmery, reddish orange known as Skinny Dip. I have always wanted to try this brand BECAUSE LOOK AT THAT ADORABLE BOTTLE, but I've been afraid to because the reviews on Sephora aren't very impressive. I don't really see too many issues with it, though. It dries really fast and goes on nice and smooth. It did start chipping the next day, but I've never used a polish that hasn't so far. I paint my nails at least once a week, so it's not a big deal. The brand definitely exceeded my expectations and this is not a color similar to any I already have in my stash, so it's a win. Full size 0.46 oz, $15.00 value.
NO. Just. No. I received this bottle of Aqua Spa Relax Body Crème in my box. You can also find it at Walmart. Yes, WALMART. Do you know what it smells like? Cheap lavender and chamomile lotion from WalMart. And possibly my grandma's house. The smell is overwhelming. I had to wash my hands with soap 3 times just to get it off. It smelled so bad, it made my hands feel dirty and grimy. As just a lotion, it's pretty decent. Not greasy at all. But I just can't stand the scent. 2 oz, $1.78 value.
The Caldrea Body Wash in Tea Olive Lime smells exactly like you would expect. A subtle citrus scent. I love, love, love citrus scents more than anything, but that's pretty much where my excitement about this product ends. I live in a city with very hard water, so it's hard to find a body wash that I don't have to use a ton of to wash my entire body before it starts breaking down. This one did not perform. I had to use a ridiculous amount during my shower just to get clean. It didn't dry my skin out like a lot of body washes do, but overall, it's just not as good as what I already use. 1 oz, $1.57 value.
There is a possibility I have the tendency to be a little judgmental every now and then. This LA Splash Cosmetics Eyeshadow Sealer/Base was tossed to the side and didn't get used for an entire week until I finally forced myself to do it just to write this review. The packaging is boring and I already have a primer I enjoy. This stuff was not easy to smear across my eyelids. It doesn't spread very evenly and feels tacky like glue. It did, however keep my eye shadow from creasing and melting off my face all day, which is the point. In fact, it lasted even longer than my regular primer that I use. My eye shadow went on very smoothly and blended easily. Aside from the nail polish, this just might be my favorite thing in my box this month. Full size 0.3 oz, $9.00 value.
ANOTHER lip product. I might be okay with this if it wasn't for the fact that the only makeup out of the three boxes I've received from Glossybox (with the exception of an eyeliner) hadn't all been lip products.
I was able to try a Bellápierre lipstick in my very first box and really liked the quality, so I was happy it was this brand, at least. I assumed the Bellápierre Cosmetics Vanilla Pink SUPER Gloss was going to be a decent neutral to wear, but nothing too exciting. It's not sticky, goes on smoothly, and lasts a long time. It's a little dark up next to my fair skin and has the tiniest hint of a bluish tint that makes me look like I've been eating grape popsicles. Or maybe I was just hallucinating. Something wasn't right about it, that's for sure. I enjoyed the lip gloss, but not the color. Full size 0.32 oz, $24.50 value.
Total box value is $51.85. While I really love the nail polish and the eye shadow primer, I can't say I'm pleased with this subscription service so far. For one, I was under the impression that I was going to get a lot of makeup samples to try. False. Out of three boxes, I received a lip product in each and one eyeliner in the very first. That's it.  Everything else is just a lot of product I'm likely not going to use. In addition, it appears that Glossybox has no interest in shipping their boxes by the month that they are meant for. That is unacceptable when they are promoting a product meant for a special occasion (such as a pretty, pale pink nail polish for Valentine's Day), and it arrives almost a month later. This has been my experience with Glossybox so far. It will get to your house when it gets to your house. And if you even dare email them and ask them about it, they will casually tell you what you already know. After three months, I am pretty annoyed. Since I was charged for the May box before the April box even got here, I'll take it. However, if I don't find May to be completely mind blowing, I will probably cancel and try something else.
If you feel compelled to subscribe to Glossybox, please use my referral link here.