I'm a little disappointed in Birchbox this month. Breath mints, sunscreen, shampoo, and conditioner just really aren't at the top of my list of things I want to try.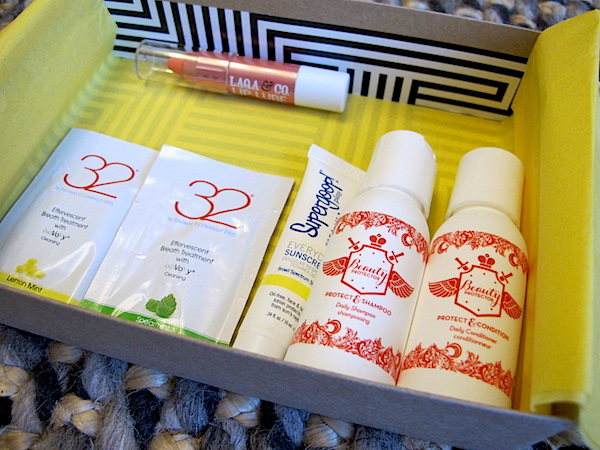 Birchbox subscribers will receive a variety of beauty samples to try for $10/month.
Supergoop! Everyday SPF 30 with Cellular Response Technology is a really long name for something that is just sunscreen. I received another Supergoop! product in the box before last, which was also basically just sunscreen. I am skeptical of this cellular response technology (which is just a fancy name for antioxidants), but it's actually a pretty decent sunscreen. I hate sunscreen. It's thick, greasy, and has an overwhelming smell. This one, however, went on like a light, airy veil. I can't even tell it's there. This is something I wouldn't be terrified of putting on my face. It smells like citronella, but it fades quickly. It is a bit pricey for sunscreen ($48.00 for an 18 oz bottle), but it could be useful under makeup or if you're not a fan of becoming a magnet for dust and sand after putting on greasy sunscreen. 0.34 oz, $0.91 value.
I promise the bottles of Beauty Protector Protect & Shampoo/Condition look exactly the same, which is why I only have a picture of the conditioner. I accidentally deleted the one of the shampoo. These have a very nice, rich, sugary scent. The shampoo was tough to work through my hair because it didn't lather or spread out very well, so I ended up having to use a lot of it. The conditioner had a very nice consistency and went through my hair very well. They left it soft, shiny, and smelling good. Due to the shampoo being so hard to work through my fine hair, though, I would probably never purchase the pair. I am just going to assume the sample sizes are 1 oz since the bottles aren't marked. Each a $2.74 value.
The 32 Oral Care Effervescent Breath Crystals with IsoVoxy are Pop Rocks for adults. They came in lemon mint and spearmint and both flavors were nice, but I favored the spearmint more. I am not convinced of the "cleansing" properties of the crystals, but they work great as a breath freshener. For me, these are more of a novelty item. There is a reason why I haven't eaten Pop Rocks in a zillion years. They are cool at first, but then they are annoying. Sitting in an office or a classroom after lunch with these suckers exploding in your mouth is bound to draw attention when all you're trying to do is freshen your breath. No. I'll just stick with regular mints. 0.09 oz, each a $0.49 value.
I was glad to at least get a lip crayon in this box. I love lip crayons. They're like lipstick and chapstick combined, minus the things I hate about both. There is nothing lube-like about this LAQA & Co. Sheer Lip Lube Pencil in Bees Knees. It is dry, dry, dry. Have you ever tried to apply the color from an actual crayon onto your lips? It's like that.
Bees Knees is a coral that did not look good up next to my skin color. I put it on my bare lips and it was very dry and settled into every crack and dry spot. I tried it again on top of chapstick, and it just slid across my lips and left zero color behind. I just need to know if they are serious with this. I've had some pretty awful lip crayons in my day, but this one just made it to the #1 spot. It's not even wearable. Full size 0.07 oz, $18.00 value.
I also received a coupon for $25 off a $75+ order from saturday.com. I'm not a fan of coupons that make you spend a set amount of money in order to get a discount, but my birthday is coming up, so this will definitely be useful.
Total box value (minus coupon) is $25.37. This isn't my favorite box I've had, but finally finding a sunscreen that is bearable was worth the $10.
If you are interested in trying out Birchbox, please use my referral link here.